Willowcreek is a direct result of a true love and understanding for our Border Collies. We (Brenda and Angelique)  met when we brought home siblings from the same litter (Maisy & Riley).  From there we did training together (Brenda is certified) and developed a strong friendship that has carried through 5 years with Brenda acquiring Piper from Riley's first litter in 2017.
Brenda has 3 generations of our current line and Angelique has three with the recent addition of Lily, our Chocolate Female born May 24th.  On the farm in Aldergrove, Brenda's family enjoys massive socialization and her girls (and boy) are working farm dogs.  They are also house dogs, indulged with cuddles and soft beds every night.   Angelique moved to Quebec in April of 2018 and her girls have been enjoying the family life since.  They're natural farm girls and if it was up to them they'd be outside playing and herding each other all day.
The move to Quebec made one thing possible.  Finding a proper temperament in a sire to sire the next set of heats.  For those familiar with the line in British Columbia, they will understand the difficulty that can be.  Jackson (Piper and Lucy's dad) has sired almost a 100 puppies thru the years and ensuring we have a strong line with no mixed heritage was first and foremost.
Jax (our blue male) was available and after meeting him, it was an easy decision.  He is the perfect match for our girls and he will share his time in Quebec and BC.
When handling such an intelligent breeds( highly emotional breed!) it's important that one knows much more than just the temperament of the dogs.  How they are raised from the day they are born is just as important.  Our dogs are cared for inside, they are played with daily.
We do NOT kennel our litters, they are not acres away from us.  They are integrated into daily life and we encourage weekly visits (when able) to bond with your puppies starting at week 3.
Our dogs and their puppies (and humans) are extended family and that is what is most important.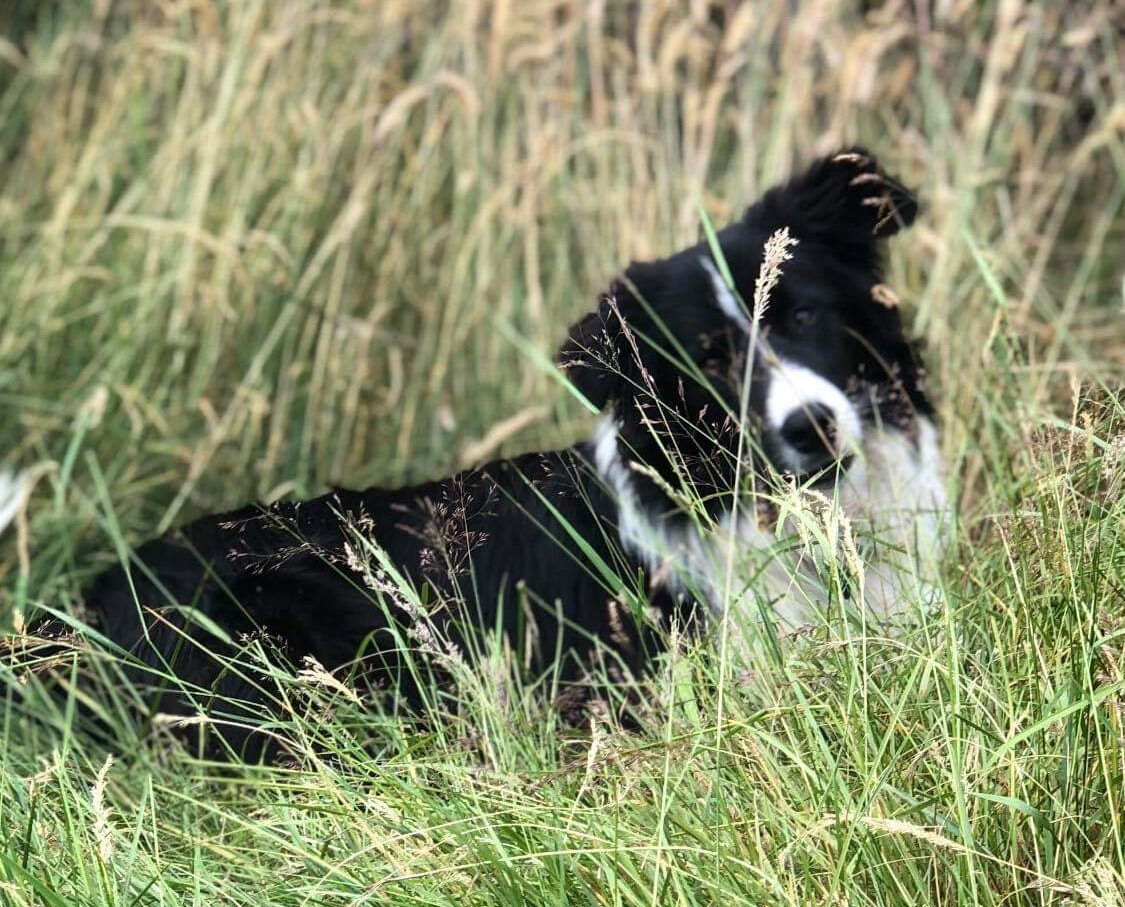 Such a lovely dog.  So gentle and soft in temperament.  Jax's is a very special dog.  You are super fortunate to have him.
Ollie, Jax & Piper's 2019 Litter
Ollie
Is a border collie for you?
I've been blessed to be a part of several groups on Facebook for the past 5 years, especially our 'Westcoast-Border Collies page" that is only possible because of the love Carmen has for the breed and her girl Maya.
I have witnessed first hand how this breed CAN be integrated into city life, responsibly and with so much love.  This breed is much more adaptable than many will give them credit for.  They DO require a busy mind but don't mistake that for having to run 5 miles a day.  You'll do them and yourself a disservice by thinking that way.
Several of our dogs are working dogs, on a farms and within typical environments.  They have excellent herding skills (and sniff skills as Riley excels in this area) but we also have several in normal, city homes or homes where they will be busy with sports and agility.
Border Collies require mental stimulation and to be honest, ours are much more tired (and quiet!) when we are doing mental work (trick training, mental games – find your toy – Riley knows each and everyone one and when I ask for Piggy, she brings Piggy – not Froggy or Fishy, Piggy!)
They thrive with activity and love love love a good hike, they are also more often than note ball obsessed (to the point where you will most likely have to set rules to ensure they learn an off switch).
Yes, they do have an off switch.  With training and consistency, these dogs can also hang on the couch and chill with you.  Expect kisses (there lickers!) and love but they can and do thrive in normal environments when provided the right mix of activity an mental stimulation.
I also am aware that there are many out there that will not home a puppy to a "first time owner".  That is such a myth!  We screen our parents very well and we've been blessed with several 'first time owners' , two 'first time dog owners' and you know what?  They researched the breed and we're more than prepared to welcome their fur babies.
So while the Border Collie is certainly not for everyone, we focus on the individuals and not necessarily their 'experience.
We do have a 'must return to us' policy for all of our dog owner's and that ensures we will never see one of our dogs in a shelter and also shows how seriously we take their placement.
WORK HARD.  STAY FOCUSED.  PLEASE THE BOSS
LOOK BACK. GIVE THE WOOLIES THE EYE. THAT'LL DO
BORDER COLLIE WISDOM